Published in The Jellied Eel Winter 2012 Issue 34 and online: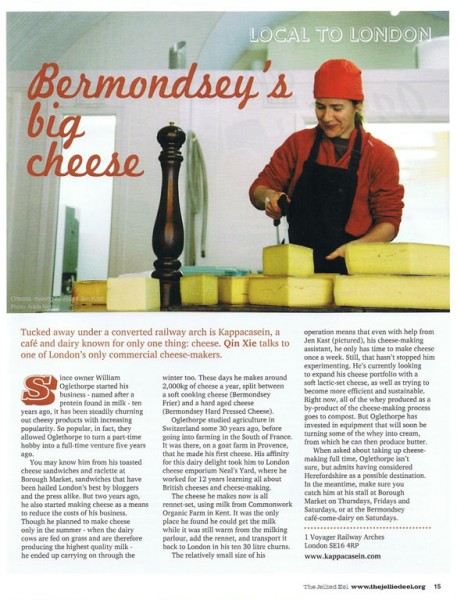 Tucked away under a converted railway arch is Kappacasein, a café and dairy known for only one thing: cheese. Qin Xie talks to one of London's only commercial cheese-makers. 
Since owner William Oglethorpe started his business – named after a protein found in milk – ten years ago, it has been steadily churning out cheesy products with increasing popularity. So popular, in fact, they allowed Oglethorpe to turn a part-time hobby into a full-time venture five years ago.
You may know him from his toasted cheese sandwiches and raclette at Borough Market, sandwiches that have been hailed London's best by bloggers and the press alike. But two years ago, he also started making cheese as a means to reduce the costs of his business. Though he planned to make cheese only in the summer – when the dairy cows are fed on grass and are therefore producing the highest quality milk – he ended up carrying on through the winter too. These days he makes around 2,000kg of cheese a year, split between a soft cooking cheese (Bermondsey Frier) and a hard aged cheese (Bermondsey Hard Pressed Cheese).
Oglethorpe studied agriculture in Switzerland some 30 years ago, before going into farming in the South of France. It was there, on a goat farm in Provence, that he made his first cheese. His affinity for this dairy delight took him to London cheese emporium Neal's Yard, where he worked for 12 years learning all about British cheeses and cheese-making.
The cheese he makes now is all rennet-set, using milk from Commonwork Organic Farm in Kent. It was the only place he found he could get the milk while it was still warm from the milking parlour, add the rennet, and transport it back to London in his ten 30 litre churns.
The relatively small size of his operation means that even with help from Jen Kast (pictured), his cheese-making assistant, he only has time to make cheese once a week. Still, that hasn't stopped him experimenting. He's currently looking to expand his cheese portfolio with a soft lactic-set cheese, as well as trying to become more efficient and sustainable. Right now, all of the whey produced as a by-product of the cheese-making process goes to compost. But Oglethorpe has invested in equipment that will soon be turning some of the whey into cream, from which he can then produce butter.
When asked about taking up cheese-making full time, Oglethorpe isn't sure, but admits having considered Herefordshire as a possible destination. In the meantime, make sure you catch him at his stall at Borough Market on Thursdays, Fridays and Saturdays, or at the Bermondsey café-come-dairy on Saturdays.