Published on Blue Tomato on 5th December 2011: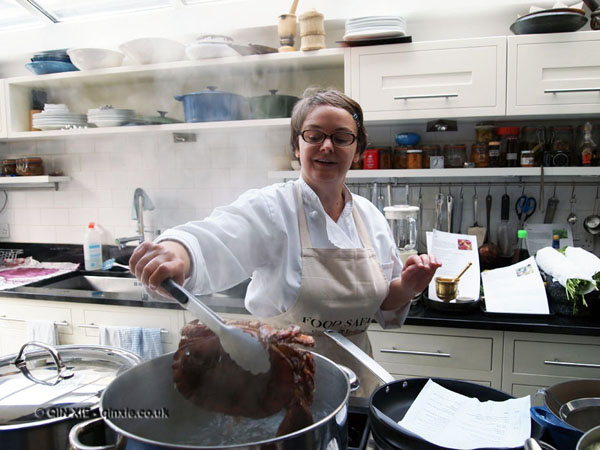 Fish in a Day is the first of Food Safari's London-based courses, which brings the Suffolk seaside to the city table.
Polly Robinson, the director of Food Safari, began the project as a way of bringing field to fork experiences in Suffolk to people who really care about their food. The London version of Food Safari, run in conjunction with culinary anthropologist Ann Colquhoun, works in much the same way except instead of visiting the producers, they are brought to the course.
The fish and seafood were all, with the exception of the Cornish crabs, from Maximus Sustainable Fish and were brought up by Robinson on the train on the day. There's a big focus on sustainability and Robinson and Colquhoun happily discuss how to select and cook your fish over fresh coffee and biscuits. Then it was on to the practical aspect.
During the course of Fish in a Day, you learn how to prepare (gut, fillet, skin) round and flat fish, separate squid, pick crabs, and sort mussels individually. After all the "dirty work", it was on to the cooking. In groups, you're assigned recipes to cook with the ingredients that you've prepared, including bouillabaisse and goujons. After finishing off some six fish and seafood dishes, you're finally allowed the chance to enjoy the fruits of your labour with a well deserved glass of wine or two, selected by Telegraph wine columnist Victoria Moore.
Fish in a Day is not only educational in the culinary sense but also leaves you culturally and environmentally sound. The course is great as a gift or for team building alike, and perfect if you want to brush up on some fish and seafood skills, learn to make classic recipes and accompaniments and have some fun along the way.