Published on The Jellied Eel on 14th July 2011:
The Partridges food market on Duke of York Square is luxe without seeming ostentatious.
Given its Chelsea location – with the Saatchi Gallery on one side, the Partridges store on the other and King's Road on yet another – it's easy to imagine a market that's all cup cake and no substance. But while the produce on sale is grown up, there's also a focus on sustainability.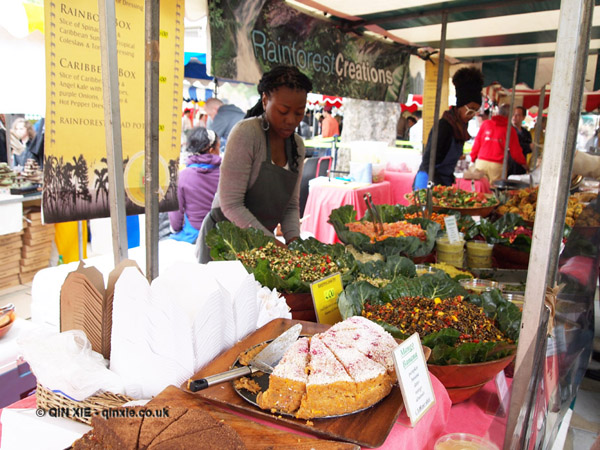 The first food market was gathered on the square by Partridges on the 29th of October 2005, inspired by the desire to tap into the world of British foods. The market was aimed at bringing to Chelsea 'family businesses that would never have an opportunity to trade in this part of town'.
Since then it has grown to attract some 150 stalls, averaging 45 regulars every Saturday. The aim has also shifted to focus more on attracting local producers, along with growing the educational aspects of the market, and John Shepherd, managing director of Partridges, says they are currently trying to develop a demonstration section where producers can show how they make their food.
Most of the stallholders are small speciality food companies. There is the odd stall selling fresh fruit and vegetables or aged meat from the farm, like at a farmers' market, but you will also find a big selection of locally-produced but ethnically diverse food, for example La Tua Pasta, artisan produced pasta made in north London without preservatives or additives.
Aside from sourcing interesting food, the market is also very grazer-friendly with many stalls selling cooked products, making it a handy stop for snacks or lunch while shopping along the famous King's Road.
Featured stallholder – Rainforest Creations
Ingo and Khi, the owners of Rainforest Creations, see organic agricultural methods as 'a way of preserving, nourishing and enriching the land', so all their offerings are organic. They have rustled together a large selection of flans, salads and cakes which are dairy and sugar free. Their speciality is tropical, raw and organic foods but they're also often recommended by vegetarians and vegans for their extensive use of fruits, nuts, seeds and vegetables.