Published in Condé Nast Traveller China October 2014 Issue 19: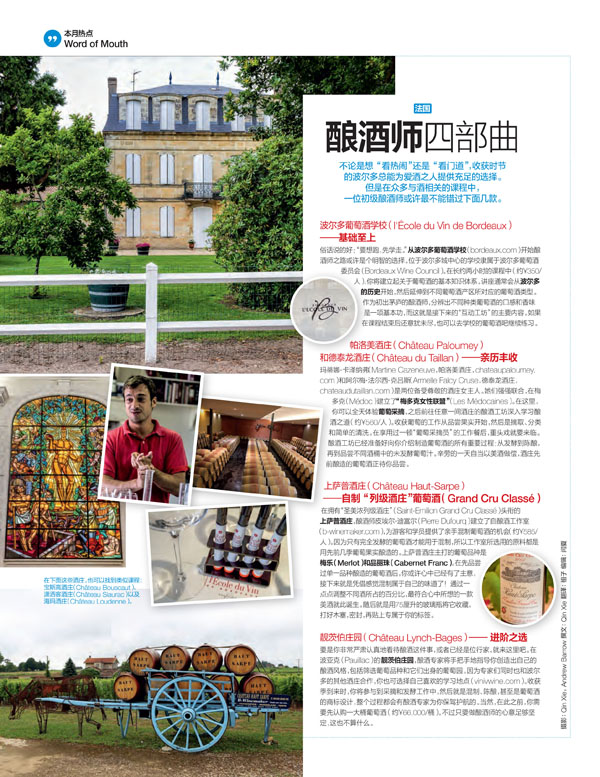 (The copy has been translated into Chinese so the below is my original)
There's nothing quite like hands on experience to learn about wine. It gives you an appreciation of the amount of work that's gone into your daily tipple and affords you an understanding of what makes one wine better than the other.
Where better to learn than in the heart of the fine wine world, Bordeaux. Here are three courses to give you a taste of the life of a novice winemaker:
1. l'École du Vin de Bordeaux – Learn the basics
Given the old adage "walk before you run", it's wise to start at the l'École du Vin de Bordeaux.
The centrally located school is run by the Bordeaux Wine Council where, in the space of two hours, you'll build a foundation of knowledge. The sessions always start with a little history of the region before moving on to the different appellations and their respective wine styles.
An essential skill for the budding winemaker is being able to discern between the different aromas and flavours in a wine; luckily, this is a key part of the interactive workshop.
There's also a wine bar at the school, if you need to further your study.
Prices start from 39€, private sessions are available www.bordeaux.com
2. Château Paloumey and Château du Taillan – Try your hand at harvest
Martine Cazeneuve (Château Paloumey) and Armelle Falcy Cruse (Château du Taillan) are the two formidable female owners who have joined forces to create Les Médocaines. Based in the Médoc, Les Médocaines offer a full day's harvest and vinification workshop split across the two châteaux.
The day begins with the harvest.
Starting at the first property, you will get to taste the berries, pick and sort the grapes and generally muck-in. After a grape-picker's lunch, you will visit the second estate and learn about the vinification process, from fermentation to ageing, and even taste the grape must (the pressed juice) from different vats.
A hard day's work is rewarded with a tasting of the finished wines from previous vintages.
Priced at 62€ per person www.chateaupaloumey.com www.chateaudutaillan.com
3. Château Haut-Sarpe – Blend your own Grand Cru Classé
At Château Haut-Sarpe, a Grand Cru Classé estate in Saint-Émilion, winemaker Pierre Dufourq has set up B-winemaker to offer hands-on blending experiences. Blending comes only after the fermentation has completed so you'll be working with the previous season's wines.
For Château Haut-Sarpe, the main grapes are Merlot and Cabernet Franc. Tasting the single varietal wines first will give you an idea of the range of styles available. The next step is to create different blends, by adjusting the percentage of each varietal in the blend, until you find the wine for you. It gets pretty competitive.
Once you're happy, you get a 75cl bottle to fill which you then have to cork and capsule before slapping on your own label. Of course, you also get to take it home.
B-winemaker runs courses at a number of other châteaux as well so you can experience the different terroirs of Pessac Léognan, Margaux and Haut Médoc too.
Prices start from 65€ www.b-winemaker.com
Château Lynch-Bages – Go the whole way
For serious connoisseurs, Viniv are the people to go to.
Based out of Château Lynch-Bages in Pauillac, their experts will take you by-the-hand to create your own style of wine from start to finish; including selecting the grape variety and the vineyards where they are sourced from. And as they work with several other châteaux in Bordeaux, there's a range of options available.
Come harvest, you can help with the grape picking and vinification; and later, there's decisions to be made about blending, ageing and label design. Of course, you could sit back and let the experts get to work.
The downside is, you will have to commit to a minimum of a barrel, or around 288 bottles of wine. It's a snip of the price of a château though.
The question is, just how serious are you?
Prices start from 7,350€ per barrel www.vinivwine.com