Published on Foodepedia on 10th October 2010: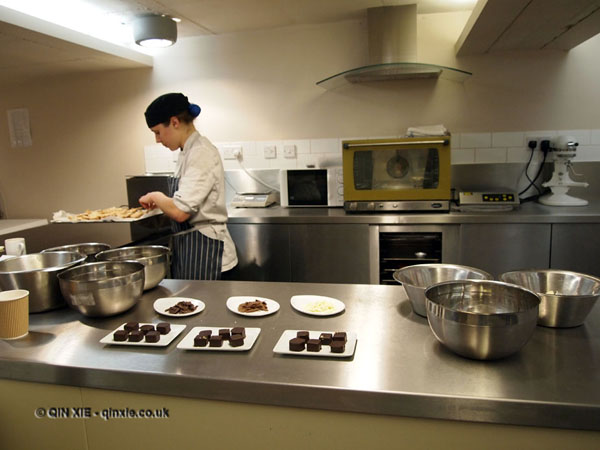 Dark chocolate truffles are the only kind of confectionery that I find absolutely irresistible. I like that they offer all the taste of dark chocolate without the bitter after taste. I love the way they release a burst of rich chocolate intensity before gently melting away on your tongue, always leaving just enough flavour to keep you wanting more.
Every year, when the weather turns wintry and Christmas is on the horizon, I would start my search for the perfect dark chocolate truffle for the season. Last year I even cobbled together a recipe and made my own. It was passable, delightful but by no means perfect. So when I heard about William Curley's chocolate making masterclass, I thought to myself "what a perfect way to spend a Sunday afternoon".
And why should it not be? William Curley started out with an apprenticeship at Gleneagles before moving on to a number of Michelin-starred establishments including Raymond Blanc's Le Manoir aux Quat' Saisons. He opened his first store in Richmond in 2004 and has since been voted the Best British Chocolatier in 2007, 2008 and 2009 by the Academy of Chocolate (2010 hasn't been decided yet). With expertise and tastings incorporated, this was set to be a good one.
The masterclass took place at Curley's Belgravia store where there is a small kitchen beneath the cafe store. Lucy, one of Curley's patissiers was heading up the afternoon session with a handful of eager participants.
We started with a cup of William Curley's hot chocolate, the perfect antidote to the miserable weather outside. The ingredients were all laid out on the counter, prepped and ready to use. As we sipped on the cups of liquid gold, Lucy explained the history behind William Curley's shop and gave us the recipes for the truffles we were going to make – Japanese whiskey and sesame.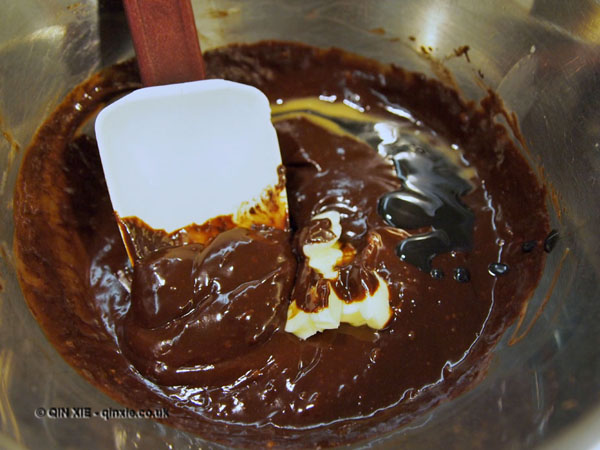 First, there was the ganache. In pairs, we were given a bowl of finely chopped dark chocolate and a small knob of butter, weighed out according to the recipe. Lucy boiled the cream for us and weighed it out into our bowls. The hot cream started to melt the chocolate immediately and we had to mix the two together until smooth, minimising the number of air bubbles, before adding the butter. When the mixture became a silky runny liquid with a temperature just cooler than skin, the whiskey was weighed into the bowl and mixed in. Finally the whole thing was put into the fridge to cool until solid. Then we moved on to the sesame truffles with the same principles except instead of the whiskey, we added black and white sesame paste for flavour.
While we waited for the ganache to cool to a solid enough state to pipe, Lucy talked about the chocolate we were using. The William Curley chocolate of choice is Amedei, which he has been using exclusively for the last few years. Amedei only uses ethically sourced Criollo and Trinitario beans to make their chocolates so the quality is excellent and the product morally sound.
When the ganache is sufficiently cooled, we moved on to phase two of the chocolate making – piping. The last time I held a piping bag was when I was attempting to decorate a Christmas cake, aged 15 and in a "food technology" class. Needless to say it wasn't really a skill I possessed or practised. Lucy demonstrated the best way to pipe out a round ganache but we all somehow failed in that task because in front of us were trays lined with ugly little pellets, barely recognisable as truffles.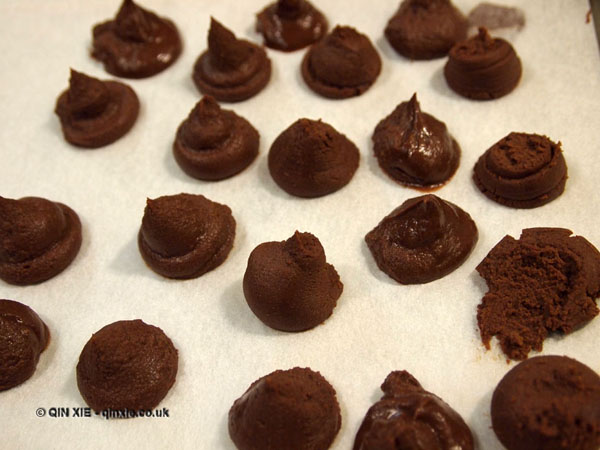 These were quickly stashed away to be cooled for a second time before being coated in tempered chocolate. Tempering is when the chocolate is melted and held at a liquid state while it's being worked. Once the tempered chocolate cools, it will set and form a hard shell, protecting the ganache inside but also giving it a glossy sheen.
In the interim, we were treated to a selection of Japanese inspired chocolates from William Curley's portfolio of flavours. Curley's Japanese wife Suzue, the co-owner of William Curley Chocolates, has been a great influence on the flavours produced by the chocolatier.
In the final part of the truffle making masterclass, the chilled ganache is coated with the liquid chocolate and then covered with toppings such as soya powder or sesame seeds. A little sneaky rolling before the coating solved the problem of the ugly pellets. Once the chocolate coating sets, they were ready to be boxed and gift bagged.
My piping skills aside, I'm not sure if these are the perfect dark chocolate truffles but they do taste pretty good. The masterclass however, was very educational and hands on and comes highly recommended for the truffle making beginner.
William Curley runs a number of truffle making masterclasses at his stores, as well as bespoke classes by request. For Chocolate Week he is also running a special masterclass at Claridge's.
William Curley Chocolates are at 198 Ebury Street, Belgravia, London SW1W 8UN and 10 Paved Court, Richmond, Surrey TW9 1LZ.