Published on Foodepedia on 19th August 2010: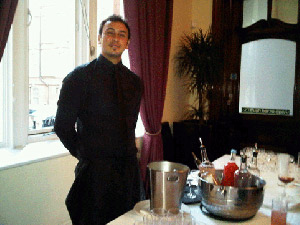 Tea! Oh glorious tea!
In case you haven't figured it out by now, I am a big fan of the stuff and there are few weekends when I'm not sitting somewhere with a pot to myself. So what better way to spend a Tuesday evening than to attend the launch of a new tea from JING, supplier to Michelin restaurants and five star hotels?
The little soiree took place at The Cinnamon Club, Westminster, where the evening can only be described as tealicious with tea cocktails, tea friendly canapés and of course the all important cup of tea.
Curious about what it is?
The new addition, bolstering JING's already burgeoning portfolio of teas, is a black tea from the Coonoor Tea Estate in Nilgiri, India, aptly named Nilgiri Black. If brewed for a couple of minutes, it tastes super light and fresh like a green tea. If left a little longer, it would become heavy quite quickly but perhaps not enough to require milk. Although in a cocktail, it's probably not quite fragrant enough to beat off the competition from Earl Grey. Still, I think the Nilgiri Black would make a nice cup of chai.
Guess what I will be trying out in my teapot this weekend? Makes a change from my usual Sikkim TGFOP I suppose. (that's 'tippy golden flowery orange pekoe' and not 'too good for ordinary people')