Published on Foodepedia on 12th December 2010: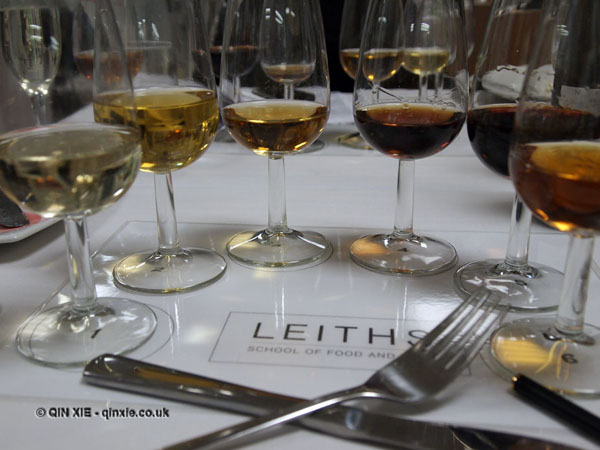 Leiths School of Food and Wine, famed for training professional and amateur chefs alike, has recently launched a new series of evening tasting classes. I went to its West London kitchen classroom to try some food and wine matches.
The class was fairly informal and led by Nancy Gilchrist MW – author, journalist and Master of Wine. For any worshipper of desserts, the evening promises to be enjoyable, entertaining and educational. Unfortunately the class took place when London was in the grips of icy wintry weather.
Having braved the snow and ice with a questionable choice of footwear, which got me cursing every two steps, I was very well rewarded. We were welcomed into the class with a glass of Zonin Brut Prosecco, which given the warm embrace of the classroom, was like an injection of summer. As guests slowly trailed in, the hubbub in the class grew.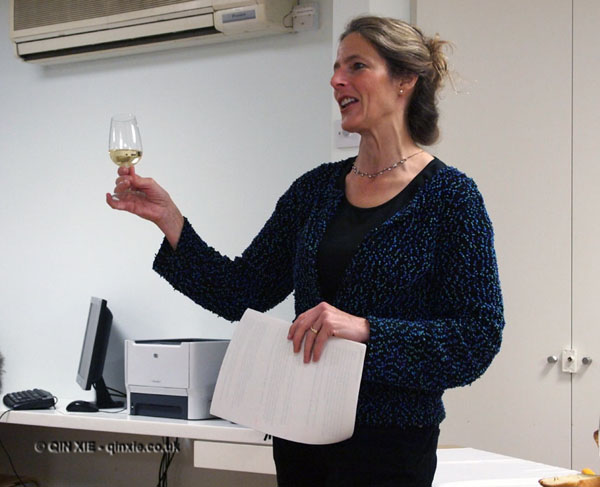 Nancy introduced the format of the evening – there were six dessert wines to try with six matched desserts. There was brioche to cleanse the palate, water for rinsing and we could request a personal spittoon, if we wanted to. We also had a course booklet with notes on all the wines and recipes for all the desserts. It was a case of "you can take it as seriously as you like", or just enjoy.
First up was a delightfully summery Chiarlo Nivole Moscato d'Asti 2009. At only 5% alcohol, it was the least alcoholic of the wines and also my favourite. It was matched with pomegranate meringues, pomegranate and strawberry compote and sweetened whipped double cream. Nancy suggested tasting the wine in four stages – on its own, with just the meringue, with the meringue and the compote and finally with everything. It was interesting to find that the perceived flavour profile of the wine was changing according to what it was paired with.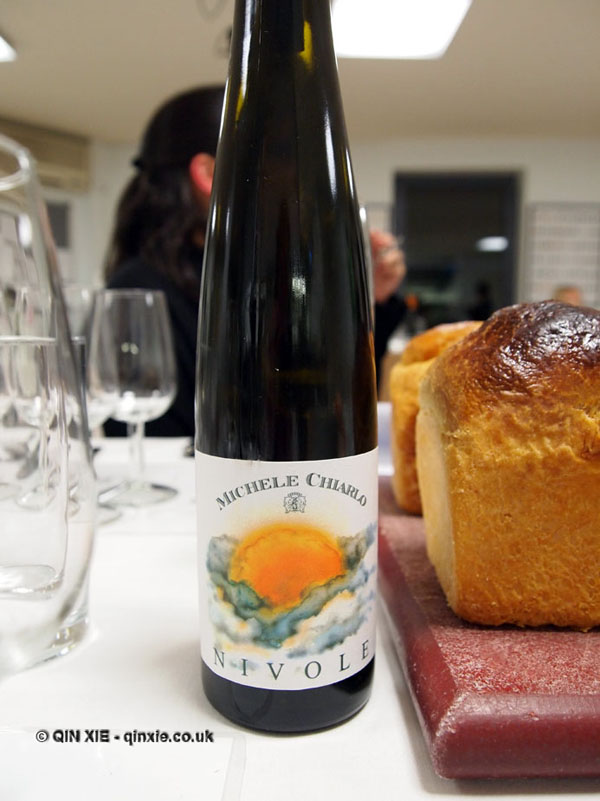 The wine was very pleasant to drink to begin with and pairing with just the meringue seemed to make little difference. With the compote the contrast was a lot sharper and the wine, although not unpleasant, didn't taste nearly as nice. When the cream was added though, the natural taste of the wine returned but with a new found richness.
The second wine was Chateau Suduiraut Sauternes 2006 from Waitrose paired with crème brûlée and raspberry coulis. There was a hint of marzipan in the wine which worked particularly well with the caramelised sugar of the crème brûlée. This sweet wine is produced via a very labour intensive process as it's made from grapes affected by noble rot. The grapes are infected by a special strain of Botrytis which causes them to dry out like raisins. They must be harvested at a particular stage of the infestation to produce the required characteristics in the wine, which means that each vine must be harvested several times by hand. Nancy tells us that this soft and mellow wine would also work well with foie gras or blue cheese.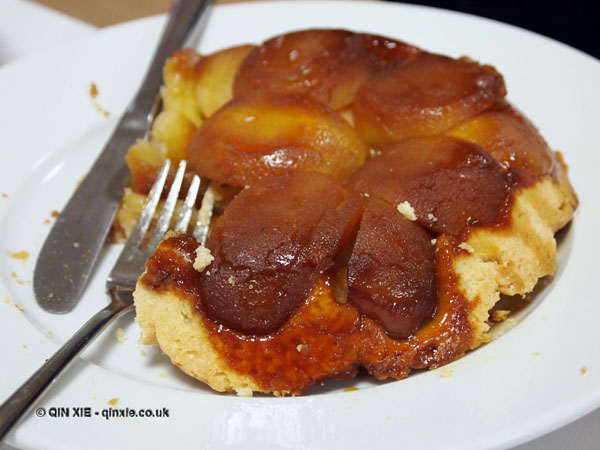 Wine number three was the Royal Tokaji 5 puttonyos 2005, which was paired with tarte tatin and Calvados crème anglais. Made with hand picked Aszu berries, the production of this wine is also highly labour intensive. The 5 puttonyos indicates the amount of berries added to the wine and therefore the level of sweetness. As the scale is between 3 and 6, this wine is very sweet.
Next up was an intensely sweet Henriques & Henriques Single Harvest Malmsey Madeira 1998 matched with stollen. Sweetness is definitely a defining characteristic of dessert wines but this one was particularly so. It was very interesting to learn about how Madeira's distinctive flavour was first discovered as a result of some wines being carried aboard merchant vessels making long journeys across the world. These days, instead of making that long journey, the wine is heated to around 50°C and maintained for some three months. Madeira is a fortified wine which continues to improve with age, is relatively insusceptible to oxidation and will therefore last for a long time.
After that large dose of sugar, it was on to a slightly less sweet wine – the Les Vignerons de Maury, NV Solera 1928 Maury. This is another fortified wine but produced using a Solera process, where new wines are blended with older wines in rotating barrels, which began in 1928. It is a non-vintage wine as, in order for a wine to be deemed a vintage, at least 85% of the bottle must be wine produced from that vintage year. (Port and champagne must be 100%.) The dessert paired to this non-vintage was fig and frangipane tart to match the hint of fig and tobacco in the wine.
Last but not least we had the Bacalhoa Moscatel de Setubal 1999 paired with a chocolate and mocha layered cheesecake to pick up on the hints of coffee.
The evening wound down in the same relaxed manner as it began – guests were able to explore the different combinations of desserts and wines with Nancy on hand to answer any additional questions. For me though, it was a matter of stomping through the snow in an attempt to get home. After all, I now had renewed energy from all the sugar consumed to make the best of my impaired balance.
Leiths runs a series of tasting classes as well as cookery classes. For full details of Leiths' courses, visit leiths.com