Published on Don't Panic on 3rd May 2010: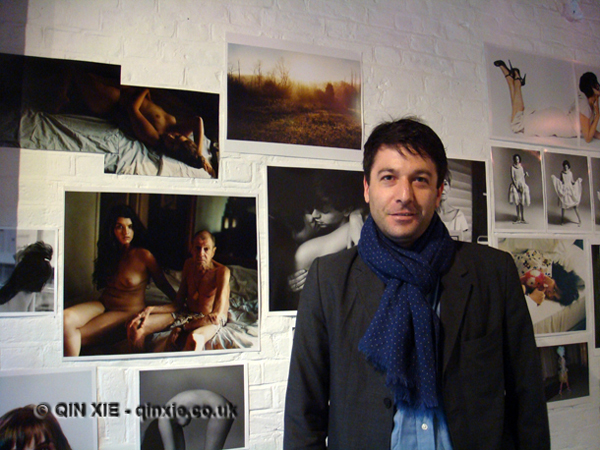 International celebrity and fashion photographer Matt Jones opened his first solo UK show with a private viewing at London's Oblong Gallery on the 1st of May. I went to speak to i-D magazine's New York editor about his work in photography
On taking shelter from the imposing sense of rain outside the bijou gallery space of Oblong, I was immediately confronted by walls of prints. The little exhibition showcases some of Matt Jones's favourite images from over a decade in the industry. However, as you explore the photographs around the room, it becomes difficult not to be overwhelmed by their number and range of subject. To say it's an eclectic mix would be an understatement. The selection ranges from portraits to landscapes, from nudes to, well whatever the opposite is. There are some very recognisable faces on the wall staring back but there are equally many average Joes vying for their time to tell their story.
Jones' first ever solo-show took place in the summer of 2009 in the gallery space of Paris' hipster fashion boutique Colette and featured many of the works on display at Oblong.
"It was really refreshing for me to go back and look at some of these pictures because a lot of these pictures were from many years ago", the photographer explains. "The first portrait I ever shot, of Damien Hirst, is back there and the most recent would probably have been taken only a couple of weeks ago. So it really is a group of pictures taken over the last 12 years."
So just how did he choose these photos then?
"Some portraits I have an emotional attachment to and for whatever reason it might have been an interesting or memorable day. Others were just portraits that I thought were strong for a historical reason. For example, there's that McQueen portrait which has become almost untimely. I almost didn't put that one in but I decided to because it was one of my earliest portraits and I felt very connected to it."
Asked if he had a favourite, Jones laughs and points to a prominent photo on the left wall with a nude woman and old man.
"We use to take care of him. He was an amazing painter, with an amazing personal story. I was trying to encourage him to start painting again and wanted to introduce him to this model who I had photographed before, her name was Crystal. I was photographing her at his house and the idea was that he was going to paint her. Unfortunately, he passed away quite soon after that portrait. The portraits that I respond most to are people that I meet."
In another photograph, an old lady in a wedding dress holds a portrait of a startlingly beautiful young woman wearing the same dress.
"I met her in Texas. I was actually photographing an actress at her house and I asked to do a portrait of her. The woman in the frame is her on her wedding day. I saw the picture on her wall, asked her if she still had the wedding dress and convinced her to put it on for the portrait. I guess for me when you stumble upon someone and it's unexpected, those are my favourites. Another was a hitchhiker I picked up in Woodstock, that's where we live. We got talking and turns out he was in a couple of Warhol movies and a couple of Bertolucci movies. He ended up coming back to my house and we did a couple of portraits together."
It's obvious from the photos that these are people that Jones' has had a real connection with. They hold a special place in a chapter of his life. In particular, it's people with stories, with histories, that Jones most enjoys photographing. Looking at some of the photos, it was impossible not to wonder what other stories he had extracted from his subjects while taking their portraits. Suddenly, the gallery seemed more alive. I wondered how his photography was influenced by working at i-D.
"I was around a lot of i-D photographers, so from a very young age I was aware of great portrait photographers like Wolfgang. There was Matthew Lewis who has recently passed away. He did a lot of work for i-D at the time and was a really strong portrait photographer. But now what's really nice is to look back at early issues of i-D. I think there's a simplicity to portraits and now I think it's rarer to find that simplicity because of digital photography."
Matt Jones's exhibition is open until May 30 at Oblong Gallery, Islington.