Published on BespokeRSVP on 12th June 2012:
As the Food and Drink editor of The Bespoke Black Book and a freelance journalist writing on the subjects, I'm lucky enough to eat out at a lot of nice restaurants. Even when I'm not working, I am always indulging in food of some sort whether or not I cooked it myself.
I would never restrict myself when it comes to food and consequently my diet is a meat, carb and dessert heavy one. But I think my relationship with food is a healthy one. I have never dieted and am instead a firm believer of exercise.
For the last ten years or so, my weight has fluctuated up and down centering around the 54kg mark, which, for someone who is five foot two, is a pretty good weight to be at. At a UK dress size of 8/10, I'm not without my "wobbly bits" at times but I'm quite happy with that. Occasionally even proud.
Why do those facts matter? Well I've been dispatched to a bootcamp in Devon, albeit a boutique one by the sea, and for the first time in my life, I will be put on a diet. Here are my thoughts for the short stay at NuBeginnings.
Friday
It's shortly after midnight and I've finally arrived at NuBeginnings – two hours or so from Paddington and then another in the taxi. I am so glad that my room is spacious and the bed literally pillow soft and comfy.
Feeling strangely full after judging at the International Chocolate Awards this afternoon. That's probably the most surreal juxtaposition – chocolates and bootcamp. Or as some would say, rather handy.
Anyway, time to head for bed. There's a seriously early start (7.30am) tomorrow which for a Saturday morning is not something to look forwards to. Still, I've been told that there are massages and Alexandra Burke has trained here so it can't be all bad. Right?
Saturday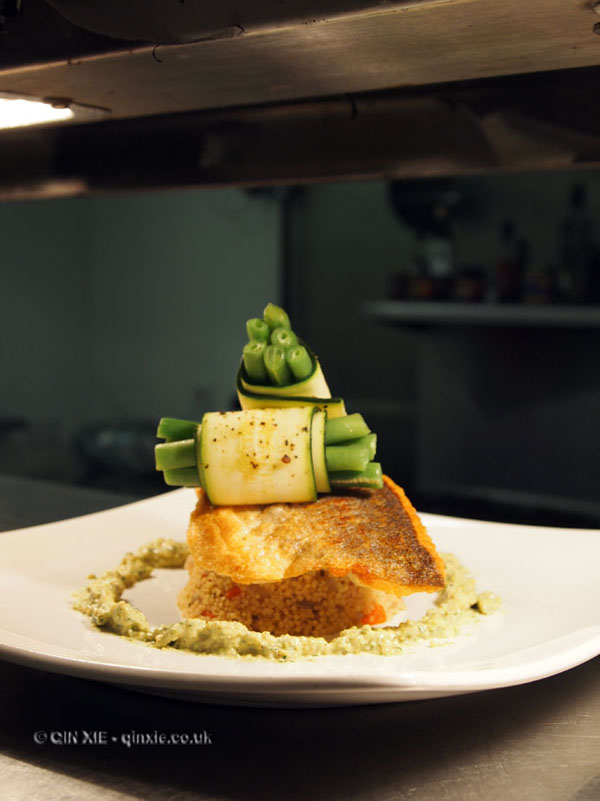 I am feeling slightly duped – I was made to exercise before breakfast! As you can imagine, every lazy bone in my body resisted. Especially when I realised breakfast was a paltry serving of muesli with fresh fruit. It looked good but compared to my usual muesli, had so much less sweetness and therefore, in my mind, flavour. This probably didn't put me in good stead for the mindful eating lecture where we were told, amongst other things, to always leave something on the plate.
The morning snack was just three slices of fridge-cold orange and a few nuts. Refreshing stuff but I could really have done with a bit more after a leg-wobbling amount of circuit training up and down a hill. And all before lunch!
That said, lunch was a pretty impressive nut burger with seeds and side salad. Yes I know what you're thinking and I was thinking it too – how could a nut burger taste good? But it was really good – flavoursome and filling, but by no means trying to be meaty.
One short hiking practice later, where I learnt that people come for fitness as well as weightloss, it was time for our afternoon snacks. The smoked salmon and cannellini really helped to tick things along through my hypnotherapy session, which I managed to sleep through. All that exercise was seriously tiring.
Dinner was when I really got to grips with one of the key aspects of the diet I've been put on – there's no added salt. Steamed red pepper, baby corn and bean sprouts would have made for very dull eating if it wasn't for the aromatic Thai chicken curry that they accompanied. I guess I will find out more in the nutrition lecture tomorrow.
Post dinner I finally got the opportunity to meet the man preparing all the food. The chef, Gary, has travelled extensively in South East Asia, where a lot of his influences came from, and had previously run his own restaurant before cooking at NuBeginnings. He created an amazing pistachio and cashew pesto for the sea bass dish which he was demonstrating. It was so good, in fact, we all requested it for dinner tomorrow.
Sunday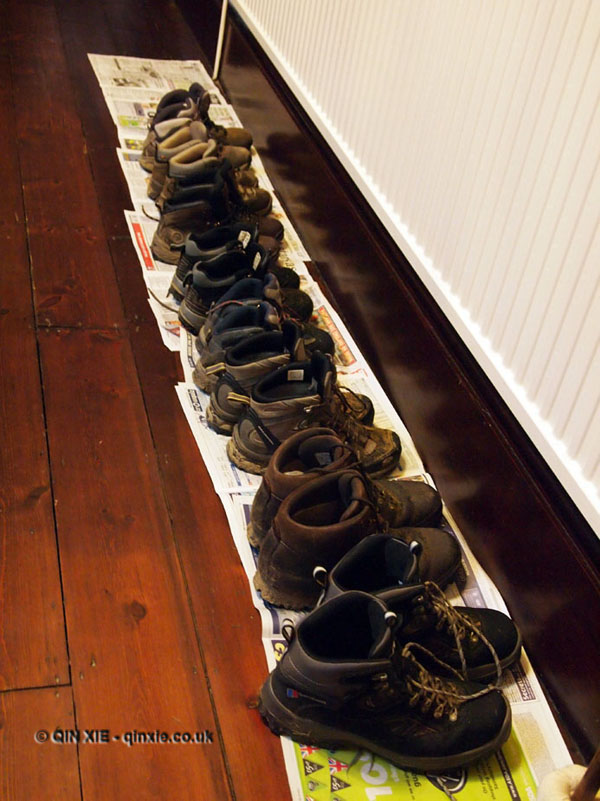 With five hours of hiking ahead, a cooked breakfast was definitely much needed. I must admit, I had secretly hoped for a greasy fry up but the gluten free pancakes we got weren't bad either. Layered with fruit and soya cream, it was really rather delicious but also seriously nutritious.
The hike was pretty miserable though; it was windy and raining. My legs were so stiff from yesterday that I could barely move. Instead, I spent much of the time tripping up. When did I get so unfit?
A snack of apple and nuts felt a bit like a band-aid on a gaping wound so I changed over to the less intense hike half way through.I actually had the opportunity to admire the beautiful views then. And I even enjoyed the warming tomato soup at lunch. But where was the bread?
I was definitely grateful for the afternoon snack of prawns with a spicy salsa and salad back at base after the hike. With free time to relax and a sport massage with Andy before dinner, I was beginning to feel pretty happy. Especially when dinner was the fantastic fish dish that Gary demonstrated last night.
After dinner, NuBeginnings nutritionist Hazel was on hand to explain our diet. Apparently we are on the GL diet – based on the GI diet but with much more guidance on portion control. That's where our structured regime of breakfast, morning snack, lunch, afternoon snack and dinner comes from. It makes sense to maintain blood sugar levels within a range for weightloss and control though I am still a bit dubious about this business of no salt, especially given how much exercise we're doing.
Monday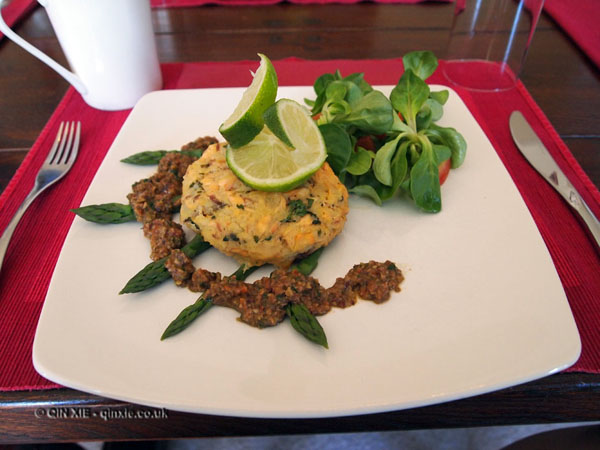 It's my last day at NuBeginnings and I woke up feeling energetic and positively jubilant. Most of the stiffness and soreness have gone and I was actually excited about exercising on the beach, even if only fueled by half a banana! The post-work out muffin and morning snack of melon, strawberries and nuts were just the cherry on the metaphorical cake really.
I think it also helped that after a really good salmon fishcake for lunch, all we had was a brisk walk in the Devonshire countryside. That said, I did learn that Nordic walking, with hiking poles, uses up some 30% more calories – a substantial amount considering how little effort is put in. It was also interesting to find a very intense start to the bootcamp before settling into a more relaxed schedule. Though it must work if the average weightloss is 10lbs. I guess it helps to allow our bodies time to recover but also conditions us for change.
My final snack was red peppers and cucumber crudités with hummous before a Tui Na session with Vanessa to relieve the last of the muscle sore. The therapists, I hear from the other well-travelled guests, are some of the best they have experienced anywhere. That was certainly my experience anyway having recovered from muscle pain remarkably quickly.
Funnily enough, the last supper – chicken korma, vegetable curry and onion bhaji – was actually a portion substantial enough for me to leave something. I guess I did take something from that mindful eating lecture – knowing when to stop!